Growing old is part of life, yet many adults see old age as something to be endured rather than enjoyed. The truth is you have a choice about how to live your remaining years. "Positive aging," also known as "successful aging," provides a blueprint for living your best life as you grow older. With a positive mindset, you make healthy lifestyle choices, unify your mind, body and spirit, and be more present in your life by making short-term choices that produce long-term results that lead to a better life.
Read here for our advice on the positive aspects of aging!
What Is Positive Aging?
Positive aging means living life to its fullest as you grow older. It starts with recognizing how your attitudes and lifestyle choices affect your physical and emotional well-being as you age. Then it becomes a conscious way of living where you strive to maintain a positive mind, stay fit and healthy, and feel good about yourself while engaging fully in life regardless of your age.
What Are Positive Aging Beliefs?
One of the biggest obstacles to positive aging is negative attitudes and beliefs about the aging process. In the U.S., people tend to believe that depression and loneliness are normal for seniors and aging adults are financially unstable or can't learn new things. The idea that older adults will get dementia sooner or later is another mistaken belief. These and other negative labels about aging can increase the odds of poor health, isolation, and a shorter life.
Positive aging beliefs reduce the negative stereotypes of older people. For example, older people with a positive attitude are wise, not senile. They feel more comfortable being themselves than they did earlier in life. They have better coping abilities than younger people when dealing with hardship or negative circumstances. Old age offers more time to achieve your dreams and spend more time with family and the ones you love.
---
Staying healthy is an important part of positive aging. TrueCare San Diego and TrueCare Riverside offer comprehensive, quality care at every age and stage of life.
---
What Are Some Positive Things About Aging?
Positive aging improves quality of life by helping older adults understand the importance of preventive medical care. Research shows that that positive thinking about getting older can increase a person's will to live, make them more resilient to illness, and take a more active approach to their health. Those who practice how to age positively are also likely to experience less stress, which reduces the chances of developing chronic diseases or disorders.
Developing a Positive Age Beliefs
Successful aging consists of three elements: keeping your mind sharp, your body healthy, and keeping your soul nourished on a regular basis. When you make these an integral part of your life, old age becomes vastly more enriching and rewarding.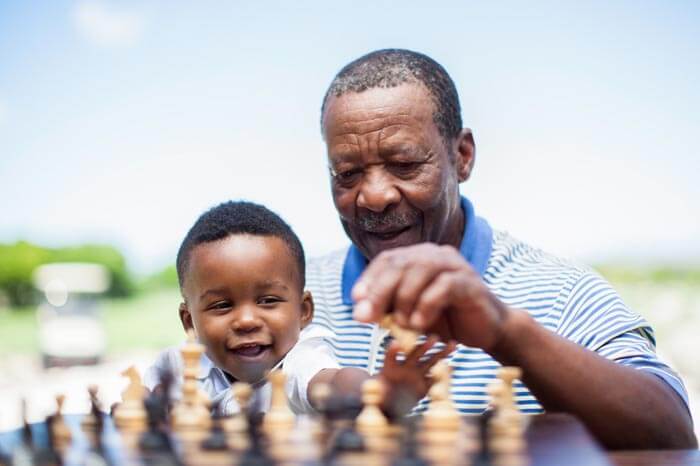 1. The importance of exercise to the brain.
Physical exercise is just as important to the brain as it is to the body. Physical activity increases blood flow to keep your brain strong. It helps develop your thinking, learning and problem-solving skills. It can reduce anxiety, depression, and the risk of cognitive decline, including dementia.
Mental exercises also can improve your memory and attention span. Some fun ways to keep your mind sharp include:
Read books, magazines, and newspapers
Solve crossword puzzles, word searches, and other challenges
Play board games and cards
Have conversations! Get together with friends and relatives
Keep a journal or write a memoir of your life
Correspond with a pen pal
Take classes to learn new things
2. Be kind to your body.
Taking good care of your body is appropriate at any age, but more so for aging adults.
Start by eating right and getting regular exercise. Limit your intake of foods high in fat, sugar, and artificial ingredients, and eat balanced meals that consist mostly of lean protein, vegetables and fruits.
Stay active by doing at least 30 minutes of exercise or movement every day. If your body isn't capable of vigorous exercise, take a 20-minute walk at a moderate pace every day. Don't smoke, and consume alcoholic beverages in moderation.
Practicing good sleep habits will help keep your body energized and healthy. Aim for seven to nine hours of sleep each night. This can be easier by going to bed at the same time and waking up at the same time in the morning. Keep your bedroom dark and at a comfortable temperature. Avoid watching TV, playing games on your laptop, or working before bedtime as these can affect important sleep cycles.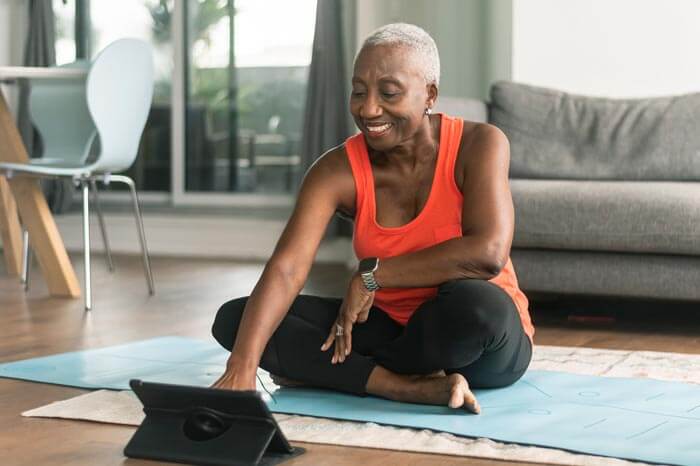 Aging positively doesn't eliminate stress, but it does include a wide variety of relaxation techniques to reduce stress and keep you in a positive frame of mind. These can include:
Meditation and breathing exercises
Calming, low-impact physical activity
Walking in nature
Listening to soothing sounds
Connecting with friends
Developing a hobby – art, music, food, etc.
Relaxing in a tub of warm/hot water
Drinking something warm and comforting
Practicing these and other stress relief tips for older adults will contribute to better your physical and mental health. When you need help, don't be afraid to reach out for it. Relying on others to get you through rough spots is not a sign of weakness.
---
Did you know: TrueCare's Older Adult Health Center in San Marcos provides quality, compassionate care for older adults aged 50-plus with complex and chronic health conditions.
---
3. Nourish your soul.
Positive aging is a time for moving towards growth, self-love, and greater fulfillment. Many who practice positive aging discover a deeper sense of purpose in life by awakening to their true selves. Their focus is on making the world a better place by contributing to others' lives. To enrich your soul:
Love yourself
Stay positive
Keep negative people at a distance
Learn to forgive
Volunteer for a worthy cause
Find joy and meaning
Strive to be more present in your life
Focus on your goals
Pay attention to the small wins
Make a daily gratitude lists
Feeding your soul is also about connection with others. Investing time in nurturing relationships with your spouse or partner, family, friends, neighbors, and others in your community, will keep your life full of love and interesting things to do.
---
Want to join a social support group for Hispanic seniors? Check out our Golden Years program.
---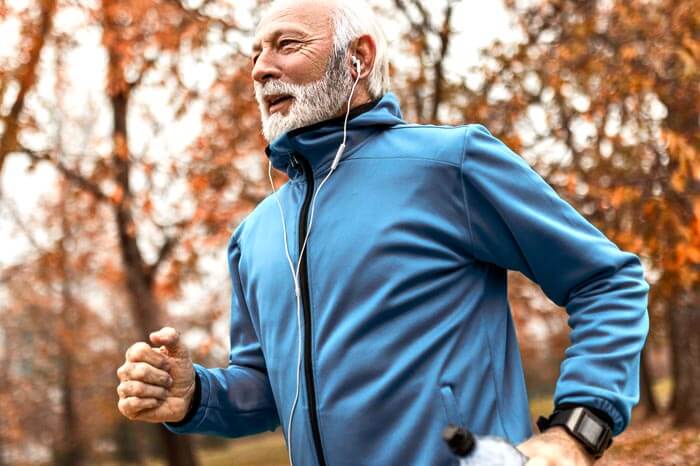 10 Reminders on the Road to Positive Aging
Put this list next to the bathroom mirror where you see it first thing in the morning and pin it to your refrigerator door.
Avoid negative aging stereotypes
Set positive aging goals for yourself
Exercise your brain
Stay physically active
Adopt a healthy lifestyle
Minimize stress
Maintain an active social life
Have regular health checkups
Never stop learning
Stay connected to those you love
Most of all, don't sweat the small stuff. Do what you love, accept what you can't do, and ask for help when you need it. Old age is as good as you make it!
Start Your Journey to Positive Aging at TrueCare
TrueCare supports our patients at every step of their health journey with heartfelt care. Looking for a place to go where you can receive personalized health care for seniors dealing with complex and/or chronic health issues? Visit any of TrueCare's Primary Care locations. Contact us to schedule an appointment today! Call or text (760) 736-6767.
Resources:
Harvard Health
The Happiness Blog
Frontiers
Help Guide
DISCLAIMER: THIS WEBSITE DOES NOT PROVIDE MEDICAL ADVICE
The information, including but not limited to text, graphics, images, and other material contained on this website, are for informational purposes only. No material on this site is intended to be a substitute for professional medical advice, diagnosis, or treatment. Always seek the advice of your physician or other qualified healthcare provider with any questions you may have regarding a medical condition or treatment and before undertaking a new healthcare regimen. Never disregard professional medical advice or delay in seeking it because of something you read on this website.