Chiropractor in San Diego & Riverside, CA
Life isn't much fun when you're in chronic pain. Fortunately, TrueCare chiropractic treatment can help.
Our experienced and friendly chiropractors combine a warm chairside manner with expert spinal adjustments to help relieve your pain and restore your health. Treatments may include gentle spinal adjustments, relaxation techniques, rehabilitative exercise, dietary changes, weight loss and more.
Spinal health contributes to your overall well-being. If you're looking for a chiropractor in San Diego, TrueCare has five healthcare centers that offer caring, compassionate chiropractic treatment.
Your San Diego Chiropractor Resource
TrueCare's experienced San Diego chiropractors specialize in treating:
Low back pain
Neck pain
Whiplash injury
Sciatica
Herniated discs
Headaches
Arthritis
Carpal tunnel syndrome
And more
Chiropractic medicine can help reduce high blood pressure and associated symptoms such as fatigue, anxiety, dizziness, and nausea. It can also relieve tension headaches and migraines, improve neurological conditions, and reduce pain and inflammation from physical injury or overexertion.
Chiropractic Treatment: FAQs
What is chiropractic treatment?
A chiropractor manually adjusts the spine or other parts of the body to correct alignment problems that are causing pain or stiffness. These adjustments, called manipulations, help relieve pain by using the body's natural ability to heal itself.
How is a chiropractic adjustment performed?
An adjustment is a quick, precise movement to a joint in your body. It loosens the joint and helps restore proper movement to that area of the body. It only takes a few seconds.
Does chiropractic adjustment hurt?
Patients often experience "snaps" or "pops" during an adjustment, but it does not hurt. You may experience mild soreness afterward, which can be helped by applying ice to the area.
Does healthcare insurance cover chiropractic treatment?
Most medical insurance plans cover chiropractic visits.
If your plan doesn't, TrueCare will work with you to create an affordable
payment plan
.
Is there a TrueCare chiropractor near me?
We have five chiropractic treatment centers throughout San Diego. Their locations are listed below.
Find a Chiropractor Near Me
TrueCare chiropractic treatment is available in five convenient locations:
Explore the benefits of chiropractic treatment.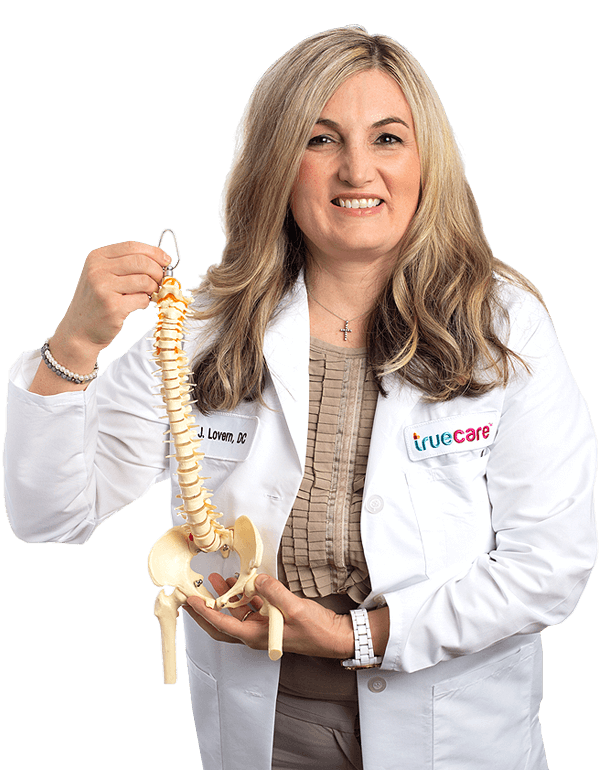 Extraordinary care with a heart.
Jennifer Lovern, DC
Chiropractic Services
"I treat my patients with a whole person approach to help them achieve optimal health and wellness through chiropractic adjustments."