Virtual Health & Telehealth for San Diego & Riverside, CA
TrueCare offers telehealth – the use of technology to deliver quality medical attention for non-emergency situations – as one of the many ways to access our healthcare services. With telehealth appointments, you can save time and enjoy the convenience of interacting with our compassionate providers through a video visit or phone call.
Ideal for the diagnosis of minor conditions and illnesses, managing chronic ailments, and more, telehealth provides the same quality care and friendly service you expect from our healthcare professionals.
See the Doctor Online and On Time
Regular doctor appointments often require time off work, transportation arrangements, or childcare plans. Virtual telehealth:
Is more affordable
Provides access to a wide-range of doctors
Delivers the same quality of care as on-site doctor appointments
Eliminates travel time and the need for babysitters
Ensures your issue or concern is promptly addressed
TrueCare Virtual Telehealth: FAQs
Why should I see a doctor online?
Virtual telehealth appointments minimize disruption to your busy day. They can be conducted almost anywhere with a smart phone, tablet or other mobile device. Telemedicine takes less time but can be just as thorough as onsite doctors' appointments.
When should I use TrueCare's virtual telehealth services?
Telehealth services offers a convenient alternative
to traveling to a
TrueCare Health Center
. Our telemedicine services are ideal for some behavioral health needs, diagnosing colds, pink eye, a rash, seasonal allergies, a cough, and other minor ailments.
How much does a virtual telehealth appointment cost?
The total cost depends on the services you receive
during and after the appointment. Your insurance may cover the cost. If not, TrueCare appointments are always affordable for
self-pay patients
.
How do I connect to a TrueCare video visit?
No downloads required!
For all telehealth services, a member of TrueCare's team will contact you prior to your appointment to send you the link. Our telehealth
video visits blog here
offers additional guidance for connecting and troubleshooting.
Is my privacy protected?
Your virtual telehealth appointment is completely confidential and private. Your personal information and communication with your provider are completely secure due to our state-of-the-art technology and privacy capabilities.
Get health care the way you need it!
Call or text
(760) 736-6767
today to see if a virtual visit is right for you.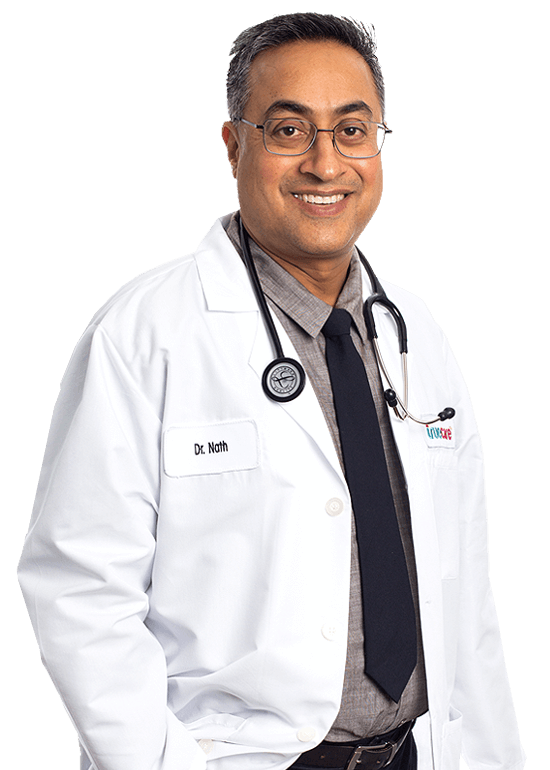 Extraordinary care with a heart.
Devarshi Nath, MD
QuickCare
"I'm lucky to go home every day and always being able to think that I did something worthwhile."