TrueCare San Diego Community Programs
As your health-first partner, our services extend beyond treating medical conditions. Our ongoing commitment to greater health and well-being includes programs designed to meet the unique needs of our community.
Affordable Connectivity Program
TrueCare wants to help our patients stay connected and use the power of technology to streamline healthcare processes and more! The Affordable Connectivity Program administered by Outreach Program Services of America (OPSA) provides our patients with a T-Mobile internet-ready device or a monthly stipend of $30 toward paying for home internet services.
To qualify, patients must:
Receive government assistance (Medi-Cal, WIC, EBT, etc.)
Make under $100,000
Sign up in person at the following TrueCare locations:
This social support group provides a safe, welcoming place for Hispanic adults who are depressed or have symptoms of depression. Here, you can socialize, engage in arts and crafts, learn about community resources, become self-sufficient, learn new skills to cope with stress, and share life experiences with your peers.
TrueCare provides teens and young adults with comprehensive family planning and related preventative health services, including access to contraceptive services, supplies and education. Health educators provide informative presentations and outreach on topics such as:
Accessing care and services
Positive self-image
Reducing unintended risks
Realities of unprotected sex: STI's & HIV
Communication with adults, friends and partners
Agricultural Health Program
TrueCare provides medical, dental and women's health services for agricultural workers and their families in North County. Services include:
Presentations on nutrition, cholesterol, HIV/AIDS, mental health and more
Flu shots, health screenings and information on community resources
Free food distribution events every 1st and 3rd Wednesday of the month
We partner with
Feeding San Diego
and other community-based organizations to provide free groceries during our Food Distributions that are open to all patients and community members.
The California Alternate Rates for Energy (CARE) Program is a money-saving program offered by SDG&E. Participants receive a lower rate for electricity use and a 20% or more discount on their monthly bill. Eligibility is based on household size and yearly income, or by household participation in certain public assistance programs.
TrueCare is committed to your health. Find out how we can care for you today!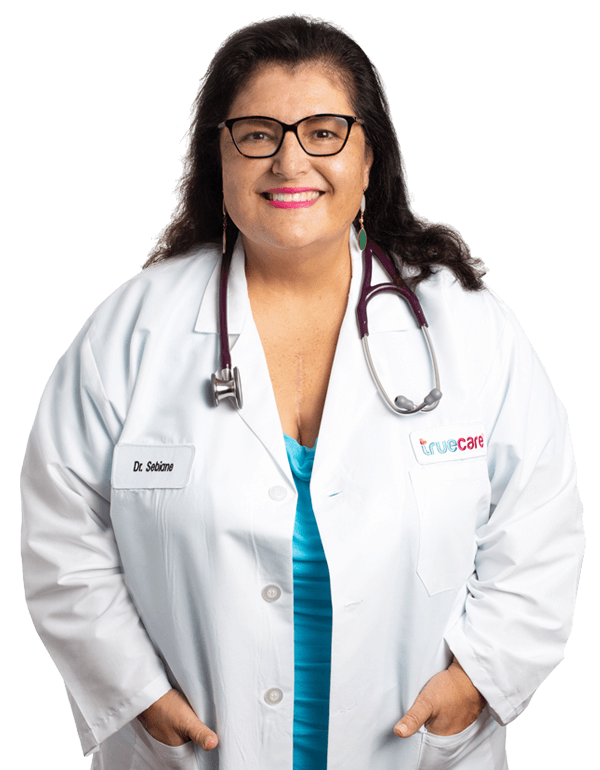 Extraordinary care with a heart.
Maria Sebiane, MD
Pediatric Care
"Patient education is extremely important. As a physician, I must communicate in a language and style my patients can understand."