How we're keeping you safe
TrueCare is working hard to provide the safest care to all of our patients, offering phone visits and in-person care. If you feel sick, please call before you come in.
When visiting any TrueCare location you must continue to wear a mask or a face covering, regardless of vaccination status.
Now Available: Online COVID-19 Vaccine Scheduling
TrueCare is now offering COVID-19 vaccines to patients age 5 and older. Plus, we have started to administer booster shots for qualifying individuals. If you are interested in receiving your COVID-19 vaccine or booster, please contact us at (760) 736-6767 to schedule an appointment.
Children can now join the fight to slow the spread of COVID-19. Recently, Pfizer's COVID-19 vaccine was approved for Emergency Use Authorization (EUA) to include children 5-11 years of age. TrueCare has Pfizer COVID-19 vaccines available for qualifying young patients at our San Marcos Pediatric and Mission Mesa Pediatric sites.
Additionally, the Centers for Disease Control and Prevention approved boosters for the Pfizer-BioNTech, Moderna and J&J vaccines. TrueCare offers boosters for people who received any of these three vaccine options. Please find our COVID-19 vaccine booster FAQs below.
Our TrueCare COVID-19 vaccine clinics continue to provide COVID-19 vaccines to care for and protect our patients through this pandemic. You are not alone on this journey. As your health partner, we'll keep this website updated with new information as it becomes available. You can also follow us on social media for news and updates.
Actualización de la Vacuna COVID-19:
TrueCare ahora ofrece vacunas COVID-19 a pacientes de 5 años o más. Además, hemos comenzado a administrar vacunas de refuerzo para las personas que califiquen. Si está interesado en recibir su vacuna o refuerzo COVID-19, comuníquese con nosotros al (760) 736-6767 para programar una cita.
Los niños ahora pueden unirse a la lucha para frenar la propagación del COVID-19. Recientemente, la vacuna COVID-19 de Pfizer fue aprobada para autorización de uso de emergencia (EUA por sus siglas en Ingles) para incluir a niños de 5 a 11 años de edad. TrueCare tiene vacunas Pfizer COVID-19 disponibles para pacientes jóvenes que califiquen en nuestros centros de San Marcos Pediatrics y Mission Mesa Pediatrics.
Además, los Centros para el Control y la Prevención de Enfermedades aprobaron refuerzos para las vacunas Pfizer-BioNTech, Moderna y J&J. TrueCare ofrece refuerzos para las personas que recibieron cualquiera de estas tres opciones de vacunas. A continuación, encontrará nuestras preguntas frecuentes sobre el refuerzo de la vacuna COVID-19.
Nuestras clínicas de vacunas TrueCare COVID-19 continúan proporcionando vacunas COVID-19 para cuidar y proteger a nuestros pacientes durante esta pandemia. No estás solo en este viaje. Como su socio de salud, mantendremos este sitio web actualizado con nueva información a medida que esté disponible. También puede seguirnos en las redes sociales para recibir noticias y actualizaciones.
TrueCare Locations and Services Updates:
For up-to-date information on the coronavirus, please visit:
Do I need to make an appointment for COVID-19 testing?
Yes, please call or text (760) 736-6767 to schedule an appointment. Check
testing location pages
for up-to-date hours.
What are the hours for COVID-19 testing?
How long will it take for me to receive my results?
Test results take around 2-3 business days to process.
How do I get my results?
TrueCare will contact you by phone to give you the results when they are available. We will call you regardless if your results are positive or negative. We work as diligently as possible to get you your results directly. If you have not been called, this means we are still waiting for the results. You can also check on your MyChart patient portal for test results.
How long will I need to quarantine?
The following instructions are for people who have or might have COVID-19 and their families or caregivers. Click here:
sandiego.gov
I tested positive for COVID-19 and my symptoms are getting worse. Do I need to make an appointment?
Yes, if COVID symptoms do not improve or are getting worse, individuals need to seek care from their primary care provider (PCP).
Monitor your health and seek prompt medical care if your symptoms get worse, especially if you are at an increased risk for serious illness. This includes older adults (risk for severe illness increases with age) and people with underlying medical conditions (such as cancer, chronic kidney disease, chronic obstructive pulmonary disease (COPD), immunocompromised, obesity, heart conditions, sickle cell disease, type 2 diabetes).
Call 911 if you are experiencing any symptoms that require emergency assistance such as:
Trouble breathing, pressure or pain in chest, bluish lips or face, new confusion, inability to wake or stay awake
We realize you may have questions about the safety, effectiveness, or potential side-effects from getting a COVID-19 Vaccine, so we have compiled a comprehensive list of frequently asked questions.
Who is eligible?
People who've received a Pfizer series:
People who've received a Moderna series:
People who've received a J&J vaccine:
For additional information on COVID vaccine eligibility, consult the San Diego County Vaccine Recommendations chart.
When should I get the booster?
At least 5 months after Pfizer or Moderna
At least 2 months after J&J
How long should I wait to get the COVID-19 booster shot after I have had COVID-19?
Early in the pandemic, the CDC recommended waiting 90 days after a COVID-19 infection to get a vaccination. Now that there's a better understanding of the COVID-19 virus, the guidelines have changed. According to the CDC, after a COVID-19 infection, you can get a booster if:
Your symptoms have resolved.
You've isolated for the recommended period of time.
It has been 3 months (90 days) since you received monoclonal antibodies.
Which booster shot should I choose?
Per the CDC, individuals can get any of the vaccines for their booster shot.
Is the COVID-19 vaccine safe?
Like all vaccines, the COVID-19 vaccines, have been rigorously tested for safety
before being authorized for use in the United States. The technology used to create two of the vaccines is new, but not unknown; it has been studied for more than a decade. The mRNA and Viral Vector vaccines does not use live virus and does not change or interact with the recipient's DNA in any way. The vaccine cannot give the recipient the COVID-19 disease. We encourage people that have concerns to discuss with their primary care provider.
The COVID-19 vaccine may be administered to:
Pregnant, breastfeeding, and lactating women
Those who have already contracted COVID-19
Those with underlying medical conditions, including people who are immunosuppressed
Can the vaccine give me COVID-19?
No. None of the COVID-19 vaccines currently authorized for use or in development in the United States use the live virus that causes COVID-19. However, it typically takes a few weeks for the body to build immunity after vaccination. That means it's possible you could be infected with the virus that causes COVID-19 just before or just after vaccination and get sick.
What symptoms will I get after I receive the vaccine?
Side effects of the COVID vaccine can include:
Pain/swelling at the injection site
Fever
Chills
Headache
Tiredness
In most cases, discomfort from fever or pain is normal. Contact your doctor or healthcare provider if the redness or tenderness where you got the shot increases after 24 hours or if your side effects are worrying you and do not seem to be going away after a few days.
How often will I need to get this vaccine?
Researchers and scientists are still learning about the frequency of vaccines needed, if it is once a year or more infrequently. As they continue to learn more, they will share findings and make recommendations for highest efficacy.
Can I mix brands of vaccines?
No, you cannot mix brands of vaccines. Your second dose should be from the same manufacturer as your first dose.
Do I need to comeback for the second dose?
Yes. It is crucial that you receive both the first and second dose of the vaccine to be effective. Get the second shot even if you have side effects after the first one, unless a vaccination provider or your doctor tells you not to get a second shot.
How effective is the vaccine? If we're not sure, why would I get it?
The U.S. Food and Drug Administration (FDA) has granted Emergency Use Authorizations (EUA) for three COVID-19 vaccines which have been shown to be safe and effective as determined by data from the manufacturers and findings from large clinical trials. These data demonstrate that the known and potential benefits of this vaccine outweigh the known and potential harms of becoming infected with COVID-19.
Are the Moderna, Pfizer and Johnson & Johnson vaccines all effective?
Studies show the Moderna and Pfizer vaccines were over 94% effective and The J&J/Janssen vaccine 66.3% effective at preventing laboratory confirmed COVID-19 illness.
Will the COVID vaccine cover me with the new strains?
Information about the characteristics of the new strain is rapidly emerging. Scientists are working to learn more about how easily they might spread, whether they could cause more severe illness, and whether current vaccines will protect people against them. At this time, there is no evidence that these variants cause more severe illness or increased risk of death.
After I get the vaccine, do I still need to wear a mask?
Fully vaccinated people can resume activities without wearing a mask or physically distancing, except where required by federal, state, local, tribal, or territorial laws, rules, and regulations, including local business and workplace guidance. When visiting TrueCare healthcenters, everyone is still required to wear a mask.
Once I've received the vaccine, is it safe for me to resume seeing my family and friends?
You are fully vaccinated two weeks after your second dose of Pfizer or Moderna vaccine and two weeks after your single dose of J&J/Janssen vaccine. It is possible you could still get COVID-19 soon after vaccination because your body has not had enough time to build full protection. Keep taking precautions until you are fully vaccinated.
Does the COVID-19 vaccine change my DNA?
No.
COVID-19 mRNA vaccines do not change or interact with your DNA in any way.
The mRNA from a COVID-19 vaccine never enters the nucleus of the cell, which is where our DNA is kept. This means the mRNA cannot affect our DNA in any way. Instead, COVID-19 mRNA vaccines work with the body's natural defenses to safely develop immunity to disease.
At the end of the process, our bodies have learned how to protect against future infection. That immune response and making antibodies is what protects us from getting infected if the real virus enters our bodies.
I already had COVID-19, why should I still get the vaccine?
Due to the severe health risks associated with COVID-19 and the fact that reinfection with COVID-19 is possible, you should be vaccinated regardless of whether you already had COVID-19 infection. If you were treated for COVID-19 symptoms with monoclonal antibodies or convalescent plasma, you should wait 90 days before getting a COVID-19 vaccine. Talk to your doctor if you are unsure what treatments you received or if you have more questions about getting a COVID-19 vaccine.
Isn't it better to have your natural immune system respond versus a vaccine?
The protection someone gains from having an infection (called "natural immunity") varies depending on the disease, and varies from person to person. Because this virus is new, we don't know how long natural immunity might last. Current evidence suggests that getting the virus again (reinfection) is uncommon in the 90 days after the first infection with the virus that causes COVID-19. We won't know how long immunity lasts after vaccination until we have more data on how well COVID-19 vaccines work in real-world conditions. Ultimately, getting a COVID-19 vaccine is a safer choice.
What does the vaccine cost?
Vaccine doses purchased with U.S. taxpayer dollars will be given to the American people at no cost. However, vaccination providers can charge an administration fee for giving someone the shot. If you are a TrueCare patient and get the vaccine at one of our locations when it is available, you will not be charged for the vaccine.
How will I know when I am able to get the vaccine?
We are now offering the COVID-19 vaccines to both TrueCare patients and non-TrueCare patients, ages 5 and older. If you are interested in receiving your COVID-19 vaccine, please contact us at (760) 736-6767 to schedule your appointment.
Do I need to make an appointment to get the COVID-19 vaccine?
Appointments are recommended, but we do accept walk-ins. Call or text (760) 736-6767 to schedule an appointment. Please check the
vaccine location pages
for up-to-date hours.
Where can I get the COVID-19 vaccine?
Is it safe to get a COVID-19 vaccine if I have an underlying medical condition?
Yes. COVID-19 vaccination is especially important for people with underlying health problems like heart disease, lung disease, diabetes, and obesity. People with these conditions are more likely to get very sick from COVID-19. Contact your healthcare provider if you have pre-existing health conditions or specific health concerns regarding you getting the COVID-19 vaccine.
I was vaccinated outside of the United States, do I need to get vaccinated again in the US?
People who were vaccinated outside the United States with an FDA-authorized COVID-19 vaccine and have received all the recommended doses
do not need any additional doses. People who received the first dose of an FDA-authorized COVID-19 vaccine that requires two doses do not need to restart the vaccine series in the United States but should receive the second dose as close to the recommended time as possible.
Some people may have received a COVID-19 vaccine that is not currently authorized in the United States. In some circumstances people who received a COVID-19 vaccine not currently authorized in the United States may be offered revaccination with an FDA-authorized vaccine.
Why should I get vaccinated?
Getting vaccinated against COVID-19 is a way to protect yourself, your family, and your community. It all starts with you. Building defenses against COVID-19 in our community is a team effort. You are a key part of that defense. Getting the COVID-19 vaccine adds one more layer of protection in addition to measures like mask-wearing, social distancing, and diligent hand-washing.
Find a COVID-19 Vaccine Center Near Me
COVID-19 vaccines available at the following locations:
To learn more about coronavirus,
please visit the Centers for Disease Control and Prevention and the San Diego County Health & Human Services Agency.
Find a COVID-19 Testing Health Center Near Me
COVID-19 testing can be found at the following TrueCare health center locations:
Test results take around 2-3 business days to process. We are working diligently to get you results. If you have not been called, this means we are still waiting for the results. Results are also available on MyChart.
Order FREE at-home tests:
As of January 19, 2022, every home in the U.S. is eligible to receive 4 at-home, rapid COVID-19 tests, that ship within approximately 7-12 days.
Other COVID-19 testing locations in San Diego County:
For COVID-19 testing locations in Riverside County please call Riverside County Public Health at (800) 945-6171.
Home isolation instructions:
The following instructions are for people who have or might have Novel Coronavirus (COVID-19) and their families or caregivers.
In order to give you the care you need from the comfort of your home, we are offering virtual visits.
Connect directly with providers via video or phone call. No insurance necessary and new patients welcome. Contact us at (760) 736-6767 to see if a virtual visit with one of our providers may be right for you.
Find out more:
TrueCare Flu Shot Locations Near Me
Flu shots available by appointment at the following locations: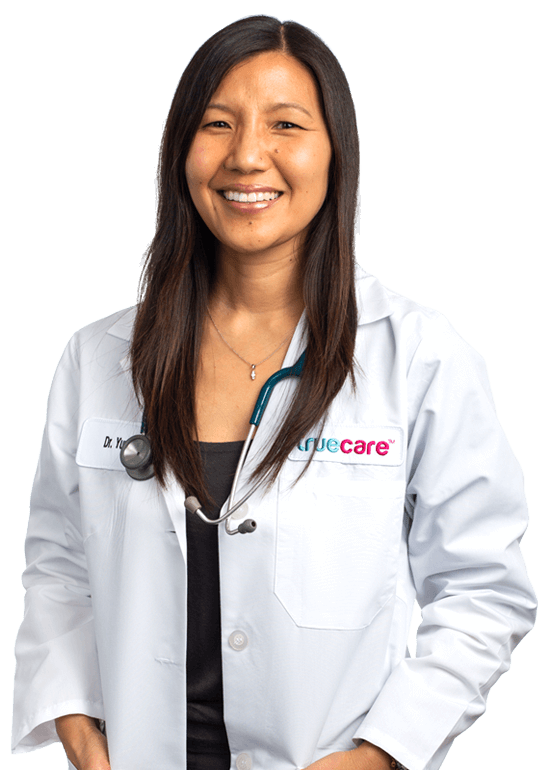 Extraordinary care with a heart.
Doris Yung, MD
Medical Doctor
"In treating my patients, the most important aspect is to have respect and compassion."