We're safe, we're ready. TrueCare is working hard to provide the safest care to all of our patients, offering phone visits and in-person care. If you feel sick, please call before you come in.
We are pleased to share that we have received vaccines and are beginning to offer vaccinations our TrueCare patients. Currently, we can only offer vaccines to TrueCare patients who are age 65 or older, by appointment only. These patients who are eligible will receive a text or phone call to schedule an appointment to receive a vaccine if they are interested. Please do not call about receiving the vaccine, we will contact eligible patients with a text message or phone call. Our goal is to be able to offer the vaccine to as many TrueCare patients as possible, however we are limited based on the amount of vaccines we receive. As always, we are committed to providing you with up-to-date information, please continue to check back for updates and be sure to follow us on social media.
Actualización de la vacuna COVID-19:
Nos complace compartir que hemos recibido vacunas y estamos comenzando a ofrecer vacunas a nuestros pacientes de TrueCare. Actualmente, solo podemos ofrecer vacunas a pacientes de TrueCare que tienen 65 años o más, solo con cita previa. Los pacientes que son elegibles recibirán un mensaje de texto o una llamada telefónica para programar una cita para recibir una vacuna si están interesados. No llame para recibir la vacuna, nosotros nos comunicaremos con los pacientes que son elegibles. Nuestro objetivo es poder ofrecer la vacuna al máximo número de pacientes de TrueCare como sea posible, sin embargo, estamos limitados basado en la cantidad de vacunas que recibimos. Como siempre, nos comprometemos a brindarle información actualizada, continúe revisando las actualizaciones y asegúrese de seguirnos en las redes sociales.
TrueCare Locations and Services Updates:
For up-to-date information on the coronavirus, please visit:
COVID-19: How we're keeping you safe:
TrueCare Flu Shot Locations Near Me
Flu shots available by appointment at the following locations:
We also offer a walk-in flu shot clinic:
In order to give you the care you need from the comfort of your home, we are offering virtual visits.
Connect directly with providers via video or phone call. No insurance necessary and new patients welcome. Contact us at (760) 736-6767 to see if a virtual visit with one of our providers may be right for you.
Find out more:
What is the Coronavirus?
This virus can cause illnesses ranging from the common cold to more serious respiratory diseases. This recent strain, known as COVID-19 had initially been linked to anyone who recently traveled out of the country. In more recent months, COVID-19 has spread and affected many geographic areas.
How is it spread?
The virus is thought to spread mainly from person-to-person.
Between people who are in close contact with one another (within about 6 feet).
Through respiratory droplets produced when an infected person coughs, sneezes or talks.
These droplets can land in the mouths or noses of people who are nearby or possibly be inhaled into the lungs.
Some recent studies have suggested that COVID-19 may be spread by people who are not showing symptoms.
What are the symptoms?
People with COVID-19 have had a wide range of symptoms reported
– ranging from mild symptoms to severe illness. Symptoms may appear 2-14 days after exposure to the virus. People with these symptoms may have COVID-19:
Fever or chills
Cough
Shortness of breath or difficulty breathing
Fatigue
Muscle or body aches
Headache
New loss of taste or smell
Sore throat
Congestion or runny nose
Nausea or vomiting
Diarrhea
How can I protect myself?
Wash your hands often:
Wash your hands often with soap and water for at least 20 seconds especially after you have been in a public place, or after blowing your nose, coughing, or sneezing.
It's especially important to wash:

Before eating or preparing food
Before touching your face
After using the restroom
After leaving a public place
After blowing your nose, coughing, or sneezing
After handling your mask
After changing a diaper
After caring for someone sick
After touching animals or pets

If soap and water are not readily available, use a hand sanitizer that contains at least 60% alcohol. Cover all surfaces of your hands and rub them together until they feel dry.
Avoid touching your eyes, nose, and mouth with unwashed hands..
Avoid close contact
Inside your home: Avoid close contact with people who are sick.

If possible, maintain 6 feet between the person who is sick and other household members.

Outside your home: Put 6 feet of distance between yourself and people who don't live in your household.
Cover your mouth and nose with a mask when around others
You could spread COVID-19 to others even if you do not feel sick.
The mask is meant to protect other people in case you are infected.
Everyone should wear a mask in public settings and when around people who don't live in your household, especially when other social distancing measures are difficult to maintain.

Masks should not be placed on young children under age 2, anyone who has trouble breathing, or is unconscious, incapacitated or otherwise unable to remove the mask without assistance.

Do NOT use a mask meant for a healthcare worker. Currently, surgical masks and N95 respirators are critical supplies that should be reserved for healthcare workers and other first responders.
Continue to keep about 6 feet between yourself and others. The mask is not a substitute for social distancing.
Cover coughs and sneezes
Always cover your mouth and nose with a tissue when you cough or sneeze or use the inside of your elbow and do not spit.
Throw used tissues in the trash.
Immediately wash your hands with soap and water for at least 20 seconds. If soap and water are not readily available, clean your hands with a hand sanitizer that contains at least 60% alcohol.
Clean and disinfect
Clean AND disinfect frequently touched surfaces daily. This includes tables, doorknobs, light switches, countertops, handles, desks, phones, keyboards, toilets, faucets, and sinks.
If surfaces are dirty, clean them. Use detergent or soap and water prior to disinfection.
Then, use a household disinfectant. Most common EPA-registered household disinfectants will work.
Monitor Your Health Daily
Be alert for symptoms. Watch for fever, cough, shortness of breath, or other symptoms of COVID-19.
Take your temperature if symptoms develop.

Don't take your temperature within 30 minutes of exercising or after taking medications that could lower your temperature, like acetaminophen.

Follow CDC guidance if symptoms develop.
Find a COVID-19 Testing Health Center Near Me
COVID-19 testing can be found at the following TrueCare health center locations:
Other COVID-19 testing locations in San Diego County:
For COVID-19 testing locations in Riverside County please call Riverside County Public Health at (800) 945-6171.
Home isolation instructions:
The following instructions are for people who have or might have Novel Coronavirus (COVID-19) and their families or caregivers.
To learn more about coronavirus,
please visit the Centers for Disease Control and Prevention and the San Diego County Health & Human Services Agency.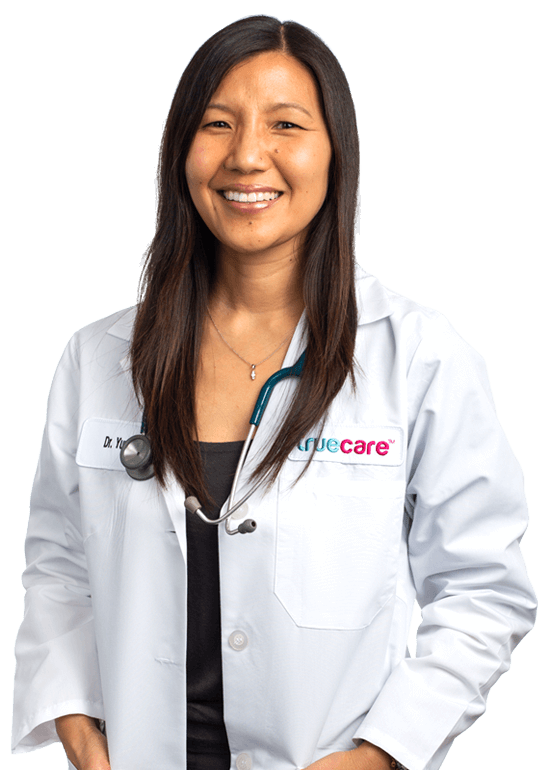 Extraordinary care with a heart.
Doris Yung, MD
Medical Doctor
"In treating my patients, the most important aspect is to have respect and compassion."