Convenient Same-Day Appointments & Walk-ins Welcome
Care when you need it! Welcome to QuickCare, the Same-Day Health Center with a heart.
Need to put your mind at ease? Our QuickCare medical services handle important non-emergency health issues without the stressful "urgent care" experience.
We welcome you with a smile and our warmhearted team of healthcare professionals and compassionate doctors provide the attention and care you deserve; you receive the same high-quality care our patients have come to expect from all TrueCare providers.
Urgent Care San Diego / Same-Day Services
Our San Diego QuickCare Services treat a broad range of symptoms, conditions and injuries that don't require emergency action or specialist care.
Flu, coughs, colds and other related ailments
Respiratory conditions such as allergies, sinus infections and bronchitis
Skin conditions such as lesions, rashes, warts, infections
Ear, eye, nose and throat conditions
Minor injuries such as sprains, fractures, and burns
Testing for flu, strep, UTI (urinary tract infection) or STI (sexually transmitted infections)
COVID testing and treatment
PEP (post-exposure prophylaxis) prescription
Need help navigating our Quick Care services? We can schedule your appointment at one of our community QuickCare service centers, or direct you to the appropriate TrueCare Health Center specialist.
We're here to help, give us a call (760) 736-6767.
QuickCare vs Emergency Care?
Patients with severe chest pain, shortness of breath, mental disorientation due to a head injury, severe allergic reactions, or other symptoms of serious trauma will be immediately referred to emergency care.
The Health Center That Says 'Yes!'
Does QuickCare accept walk-ins?
Does QuickCare accept patients without insurance?
Yes. Our healthcare centers provide quality quick care services at affordable prices. If you're uninsured or underinsured, we can arrange payment plans that match your ability to pay. We also offer "bundled" care to patients who qualify, with one set price for all services received during a visit.
Can first-time TrueCare patients use a QuickCare Health Center?
Yes. All who walk through our doors are welcome. Whether you're a new or long-time TrueCare patient, our friendly, compassionate healthcare professionals make you feel right at home.
Is there a TrueCare QuickCare clinic near me?
Find a QuickCare Clinic Near Me
TrueCare makes it easy to access our San Diego QuickCare services at these convenient locations.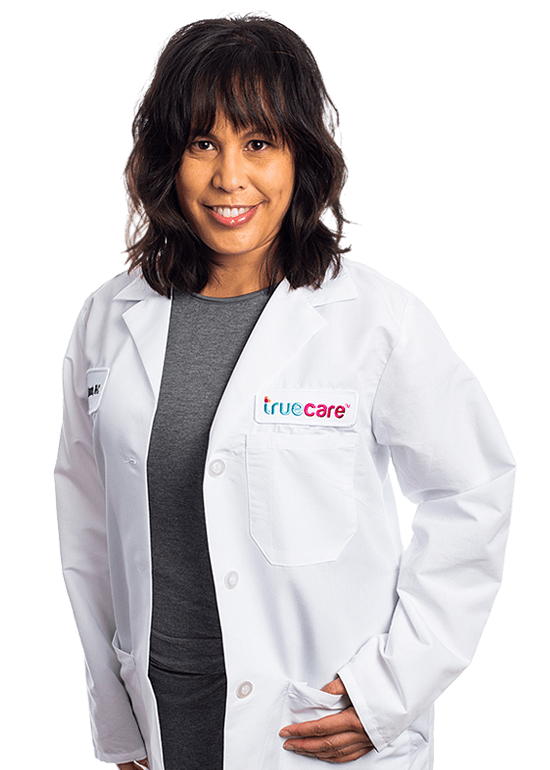 Extraordinary care with a heart.
Rachelle Bernardo, PA
QuickCare
"In treating my patients, I believe in giving every patient the most individualized care possible, treating them as a whole and not just their illness."