TrueCare Information for New Patients
Extraordinary care with a heart.
We're more than a health center. We're family.
We understand you might be a little apprehensive on your first visit, so we promise to make it a great experience. Our warmhearted and caring staff and compassionate doctors are here to welcome you, answer all your questions, and give you the attention and care you deserve. At TrueCare your health is our priority.
Affordable care you can trust
Full service health with a heart
Every patient wants to feel understood. Our multi-lingual healthcare staff speak English and Spanish as well as other languages so you can feel comfortable at every visit. Additionally, we provide interpreter services for more than a dozen other languages available at each TrueCare Wellness Center.
We look forward to seeing new patients
We want your first visit with us to be a great experience. Gathering your personal information and filling out the appropriate forms in advance will make for a stress-free, timely visit.
Download Forms – New Patient Information:
Release of medical records
TrueCare providers need to understand your health history in order to provide the right care. Please ask your last doctor to send your medical records to us prior to your first appointment. Find a release of information form below.
Fax: (877) 279-1995
Or Mail to:
TrueCare Health Information Department
4056 Calle Platino,
Oceanside, CA 92056
Download Authorization for Use or Disclosure of Health Information:
Release of medical records with MyChart:
Health Insurance Card
Picture ID (if applicable)
Medications
Immunizations Card
Proof of income for all household members
Advance Directive
New Patient Forms (Completed)
Please download and complete the forms that apply to your first TrueCare appointment:
If you have any questions that are not covered on our new patient information page, please call us at
(760) 736-6767
. We'll make sure you get the answers you need.
Need a Ride? We'll get you there.
TrueCare is proud to partner with Uber Health, to provide safe, reliable transportation for patients who need help getting to and from their scheduled appointments.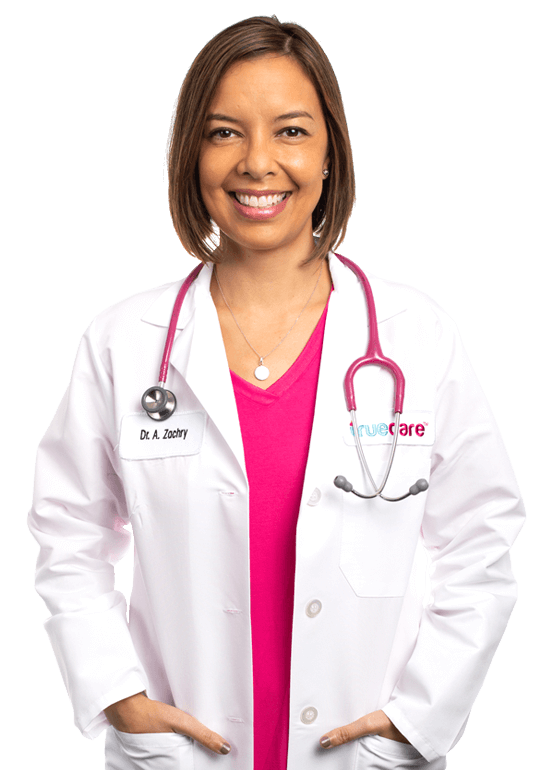 Extraordinary care with a heart.
Alison Zachry, MD
Pediatric Care
"I believe that the best way to play an integral role in contributing to the health and future of our society is by ensuring the wellness of our children."