Primary Care in San Diego & Riverside, CA
We put the care in health.
We deliver a consistent and superior patient experience that begins when patients walk in the door. We not only listen; we understand where you're coming from. Regardless of where you are in your healthcare journey, our team meets you where you are. From highly rated doctors to receptionists who know you by name and greet you with a smile, our primary care centers are staffed with compassionate healthcare professionals focused on your well-being.
Care when and where you need it. TrueCare has seven conveniently located, state-of-the-art health centers in San Diego and Riverside counties that provide primary care medicine. Our extended hours and virtual visits make it easy to access primary care services.
We'll get you there. We even provide free transportation if you can't make it to an appointment on your own!
We take good care of you in sickness and in health.
Sick Visits:
Illness
Injuries
Chronic disease management
Diabetes screening and management
Cardiovascular (heart) conditions
Integrated behavioral health services
Minor procedures
Stay Well:
Regular checkups
Sports physicals
Immunizations
Family planning
TrueCare Primary Care: FAQs
How do I choose my primary healthcare provider?
Visit our Find a Provider page
to find the right primary care provider for you and your family.
Do I have to be sick to schedule a primary care appointment?
No.
TrueCare offers a wide variety of preventive and
wellness services
to optimize your health and wellbeing. We encourage our patients to schedule regular health checkups and get immunizations, such as flu vaccinations, to protect against contagious diseases.
Does TrueCare primary care medicine include family planning services?
Yes
, as part of our
Women's Health
program. From birth control to deciding when to have children and how many, our family planning specialists will gently guide you through some of life's most important decisions.
What specialized care does TrueCare offer for older adults with complex health needs?
TrueCare has partnered with
San Diego PACE
, a division of San Ysidro Health, to ensure our 55+ patients with complex health needs have a choice for medical services outside of an expensive long-term care facility. SD PACE is a specialized Medicare and Medi-Cal health plan. There are several factors considered to qualify. Ask your doctor if San Diego PACE is a good option for you or your elderly loved ones. For more information, visit the
San Diego PACE website
.
What if I don't have healthcare insurance?
We never turn away patients due to lack of insurance.
Our
"Health Bundle"
offers one low fixed price for all services provided during a visit, including tests,
labs and x-rays
.
Primary Care Services in San Diego County
TrueCare offers primary care services at eight convenient locations throughout San Diego and Riverside counties:
Schedule an appointment at a TrueCare Primary Care health center nearest you!
Already a patient? Schedule an appointment today through our MyChart® patient portal!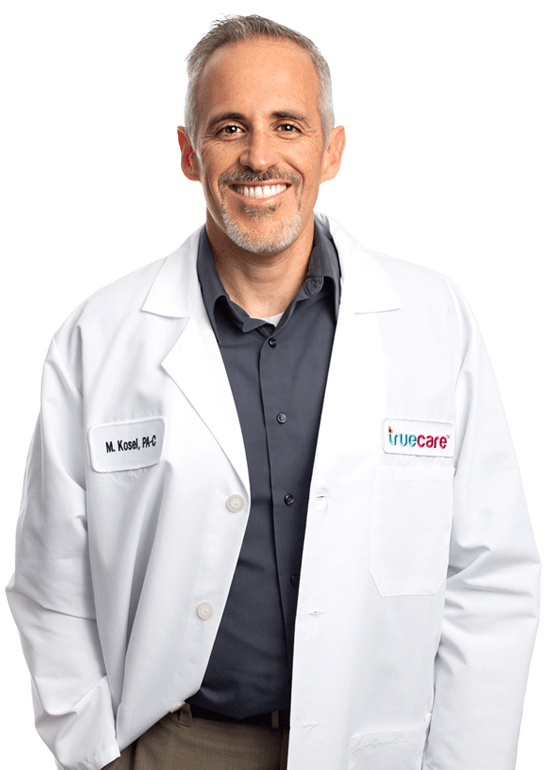 Extraordinary care with a heart.
Matthew Kosel, PA
Primary Care
"Creating a caring and trusting relationship with my patients is very important. There should always be a "we" in every decision made."