Your San Diego & Riverside Pediatrics Resource
Childhood is a period of growth and development and it's important that you schedule exams on a regular basis to make sure they're developing and thriving. TrueCare pediatric physicians are specially trained to diagnose and treat children's unique health issues and are passionate about keeping children on the path to good health.
Our warmhearted team of healthcare professionals and dedicated pediatric physicians help children and their families feel safe and cared for. Count on us for superior pediatric care delivered with compassion. When you visit a TrueCare pediatric center, you'll understand what we mean by family care.
Complete Pediatric Care for the Ones you Love
TrueCare Pediatric Care Centers offer much more than just treating children with minor illnesses and small "owies". Our full range of child health care services includes:
Well-child and sick-child exams
Immunizations
Asthma management
Child health and disability prevention exams
Comprehensive family-centered nutrition education
Weight screening, prevention, and management services
Breastfeeding services and support
Dental care
Hearing and vision screenings
School and sports physicals
Academic Success Program (ASP)
Diagnoses and Treatment of Attention-Deficit/Hyperactivity Disorder (ADHD)
Family planning and adolescent screenings
Extended care (through 21 years) to established young adults
Proactively screen for behavioral and mental health issues, including anxiety and depression
Referrals to our dental services for kids
TrueCare Pediatric Health Care: FAQs
What is pediatric care?
Pediatrics is a specialized branch of medicine that provides healthcare for children from infancy up to 17 years of age, as well as established patients up to 21 who want to defer their transition to adult care. Pediatricians diagnose and treat everything from minor illnesses to serious diseases, including mental and behavioral disorders.
When should I bring my child in to see a pediatrician?
Minor ailments such as a common cold or mild fever
often don't require a doctor visit. If the condition worsens or lasts more than a few days, call us to schedule an appointment at a
TrueCare pediatric center
.
The American Academy of Pediatrics recommends periodic, scheduled well-child visits. Click here for the AAP schedule of well-child care visits.
Do TrueCare pediatric physicians treat injuries?
If your child has an injury or medical condition that requires immediate attention, please visit one of our
QuickCare Health Centers
.
We also provide splints, wound repair, incision and drainage, other surgical procedures, and a broad range of childhood injuries and illnesses.
Do you accept pediatric patients without family insurance?
No child should go without needed medical care
. If you are
uninsured or under-insured
, we offer affordable payment options to ensure your children get the care they need. We can also
help you enroll
in a health coverage plan that's right for you and your family.
What are developmental milestones?
To identify children at risk for developmental delays and disabilities at an early age when interventions may be more effective, the American Academy of Pediatrics (AAP) recommends developmental observation at child wellness health visits and physicals.
The help parents understand developmental milestone guidelines, the Centers for Disease Control (CDC) has a free, easy-to-use app to track your child's milestones from age 2 months to 5 years. Download the Milestone Tracker app from the App Store or Google Play today, and talk to your pediatrician about your observations at regular well-child checkups!
What happens during a child wellness exam?
The pediatrician conducts a physical exam and provides vaccinations (if needed) to keep your child up to date. The doctor will also track growth and behavioral milestones, diagnose any health problems, and provide recommendations to improve fitness, nutrition and overall health.
Does TrueCare offer testing for learning disorders?
Yes. TrueCare's Academic Success Program (ASP)
refers struggling students for testing at a TrueCare location to identify and diagnose a learning disorder or other issues that may impact your child's learning. Diagnosis through the school system can take months, but ASP expedites this process. Once a child enrolls in ASP, TrueCare providers use state-of-the-art assessments to identify the issue and recommend an action plan for improvement.
If your child is struggling in school, talk with your child's provider or call (760) 736-6767.
What services does the Family Wellness and Nutrition Program offer?
TrueCare is committed to providing comprehensive wellness and nutrition services during pregnancy and postpartum, and for infants, toddlers, adolescents and young adults.
Our
registered dietitians
and
lactation specialists
are here to provide professional counseling and support for you and your family. We believe that early intervention is the best way to prevent chronic conditions and promote healthy living and wellness. Our family-centered, preventive approach can help with feeding at every developmental stage and managing chronic conditions such as elevated liver enzymes, hyperlipidemias and
overweight concerns/weight management
, as well as work with student athletes and young adults.
Pediatric Care in San Diego
With six locations to choose from, it's easy to find a TrueCare Pediatric Center near you:
We're more than a health center; we're family.
Call or text
(760) 736-6767
today to schedule an appointment at any of these convenient locations.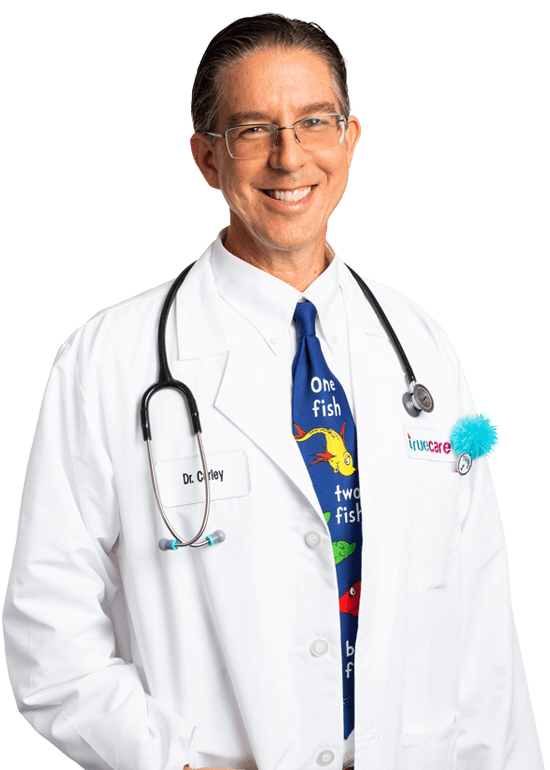 Extraordinary care with a heart.
Edward Curley, MD
Pediatric Care
"It is important to connect with the infant, child or teen in a way that fosters trust."