Podiatry Services: Your North County San Diego Resource
Healthy feet keep you moving and active! With proper care, most foot and ankle problems can be alleviated or prevented.
At TrueCare, podiatry is an important specialty care that ensures the foundation of your body – your feet – perform as best they can.
With a referral from your Primary Care provider or Pediatrician, our podiatrists provide comprehensive services for your feet and ankles, including minor surgical treatments. Don't let disorders of the foot or ankle injuries slow you down. Let your provider know if you have foot or ankle pain or discomfort so that you can be referred to TrueCare's podiatry services in San Diego.
Talk to your provider to see if a complete podiatric medical exam is right for you.
Podiatry Services for Foot and Ankle Care
TrueCare in San Diego offers Podiatry care for the treatment of:
Diabetic conditions
Ingrown toenails and nail disorders
Wounds and infections
Arch issues
Plantar fasciitis
Neuropathy conditions
Sprains and fractures
Orthotic foot and shoe needs
Joint and gait analysis
Arthritis and inflammatory diseases
Skin and soft tissue tumors or cysts
Bone spurs / bunions / corns
Torn muscles, ligaments and tendons
Podiatry is covered by most insurance plans including Medi-Cal, specific Medicare supplemental plans and select commercial insurance policies. A referral from your TrueCare provider is required.
Ask your provider if Podiatry could benefit your foot and ankle conditions.
What is Podiatry?
According to the American Podiatric Medical Association, podiatry is a field of medicine that strives to improve the overall health and well-being of patients by focusing on preventing, diagnosing, and treating conditions associated with the foot and ankle. Doctors of Podiatric Medicine (DPMs) are physicians and surgeons who practice on the lower extremities, primarily on feet and ankles.
What can a podiatrist detect?
Podiatrists can diagnose foot and ankle problems from consultation of symptoms to diagnosis and treatment planning. They can determine dermatological and neurological diseases, especially any conditions as the result of health issues such as diabetes or arthritis. They can also prescribe special orthotic support and shoes. Other conditions like bone disorders, corns, arch problems, heel spurs, shortened tendons, and cysts can be addressed. They can order and interpret x-rays of the foot and ankle and prescribe treatment such as medication or therapy. For foot and ankle injuries like sprains or fractures, podiatrists can fit patients for soft casts or boots, as needed.
How often should I see a podiatrist?
Podiatrists can identify potential issues and recommend steps you can take to avoid problems and maintain healthy feet. Podiatry services at TrueCare are by referral only, and frequency depends on your needs and insurance coverage.
If you have foot or ankle pain that has lasted longer than a week, talk to your provider to see if you should have it evaluated by a podiatrist.
Does my insurance cover podiatry services?
Podiatry is covered by most insurance plans including Medi-Cal. It also may be covered under some Medicare supplemental plans and commercial insurances. You will need a referral from your TrueCare provider in order to receive podiatry care.
Podiatry Care near San Diego
Podiatry services are available by referral at this TrueCare location: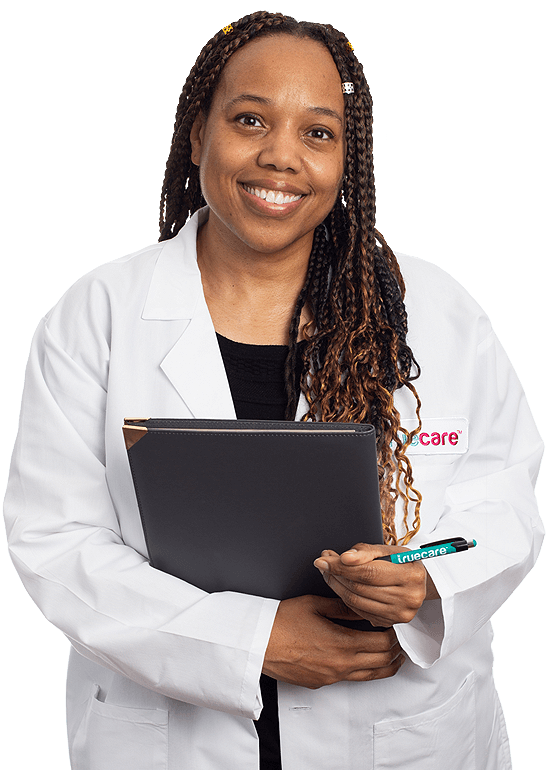 Extraordinary care with a heart.
Wanda Freeman, PMHNP/FNP-BC
Behavioral Health
"Most patients need understanding to make a change. If I can explain and educate well with my patients, they will feel more empowered to take charge of their health."