TrueCare Patient Information
Get the care you need, when you need it.
Whether you're a new or current patient, TrueCare works hard to provide the best possible care at an affordable cost. We provide innovative and easy ways for patients to connect, including virtual visits, transportation assistance and convenient mobile units to help make your life easier and healthcare more accessible.
We understand your time is important, and work hard to minimize phone call wait times, provide timely flexible appointments, and make sure you get through to the right provider.
At TrueCare, we put your health first. Our dedicated healthcare professionals strive to make every visit to TrueCare a superior patient experience. Our compassionate team understands your needs and provides a heartfelt welcome to each and every person who walks through our doors. Most importantly, we never turn anyone away due to lack of insurance or inability to pay.
Health inside. Welcome in.
Login or sign up for MyChart®
Our patient-friendly portal provides the tools you need to manage your health from anywhere at any time.
Welcome to the TrueCare family
We're glad your here! Get the TrueCare patient information, forms and helpful tips you need to make your first visit with us simple and stress-free!
Frequently Asked Questions
Fast, focused information for TrueCare patients
If you have questions about TrueCare health care services visit our FAQ page to get the TrueCare patient information you need to know.
Our multilingual healthcare staff are fluent in English and Spanish. We also provide interpreter services for more than a dozen languages.
Affordable Quality Healthcare
Plans and programs we accept:
Our healthcare services are available to everyone regardless of insurance status or ability to pay. To make it easier, we offer fixed-cost bundled services and flexible payment options. TrueCare accepts a wide variety of healthcare insurance plans, including Medi-Cal and Medicare. We can also refer you to a wide range of programs and grants that subsidize or cover the cost of your care.
Medi-Cal / Medicare accepted
Discounted services
Sliding-fee scales (based on income)
Medi-Cal/Medicare accepted
Wide variety of plans accepted
Insurance guidance / application assistance
Health service bundle (One set fee for all services accessed in a single visit)
Flexible payment plans
Family assistance services
This FREE TrueCare service is available to anyone – even if you're not a patient.
Find a TrueCare Health Center near you.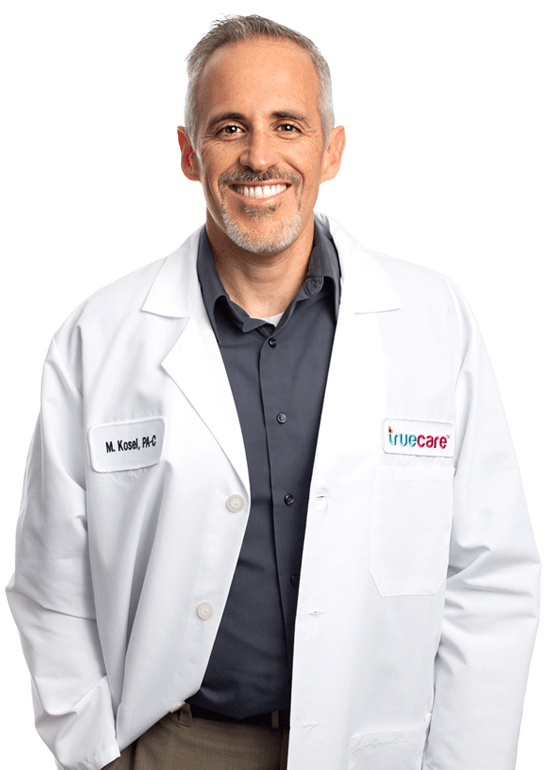 Extraordinary care with a heart.
Matthew Kosel, PA
Primary Care
"Creating a caring and trusting relationship with my patients is very important. There should always be a "we" in every decision made."