Suppose your young child or growing teenager asked you one day, "Am I fat?" What if you hear them commenting negatively about their weight or body? How would you respond? With so much attention on weight bias and body image in the American culture, many children are beginning to have questions about these sensitive issues at an early age. Many children might already view their bodies in a negative way. Often, one of the first people they turn to for support is a parent.
How to Talk to Kids About Weight
For some parents, this can be an uncomfortable topic. But knowing how to have a conversation about weight and body image in a factual, caring manner is important.
When it comes to teenagers, many parents might be thinking about talking to them about other subjects, such as sex, drugs, alcohol, or smoking, rather than their weight or body image. As a result, questions can go unanswered, and the child or teen continues with a negative weight bias view of themselves or feelings of being labeled or stigmatized.
As a parent, you can help your child cast off the shame of carrying extra weight and develop habits that lead to a healthy, happy life. The key is to have a basic knowledge of childhood weight stigma issues, so you feel comfortable having meaningful, positive conversations with your child.
This blog will discuss ways to talk to your children or teenagers about weight and body image. We will also point you toward resources that can assist you – and them – on creating a positive mindset around weight and body image.
Why is Weight a Sensitive Subject for Children and Teens?
Children who carry extra weight – or conversely, are very skinny — can feel left out, put down, and ridiculed for many reasons. Frequently, they are targets for bullying in school, and they may be subject to teasing among their friends or family. This can lead to social, academic, and mental health problems by internalizing the hurtful messages received from friends, peers, adult figures and even their own family.
Cultural differences also impact weight stigma and how children see themselves and their body image. Parents of certain racial or ethnic heritages may consider excess weight an admirable trait rather than a health concern. When their children receive contradictory messages at school or when playing with others, they feel confused and hurt – especially when the body shaming comes from teachers or other adult figures.
As the parent, you are in the best position to help your child work through weight stigma in a practical and caring way – but only if you are prepared for what can be a difficult conversation.
Why Parents Need to Be Prepared to Talk about Weight
Knowing your child better than anyone makes you the best person to communicate with your kids about weight. Even so, conversations about weight can be complex, emotional, and difficult for both parent and child. Having factual knowledge about weight issues and talking about it at your child's age level will enable you to address any concerns in a positive manner.
---
---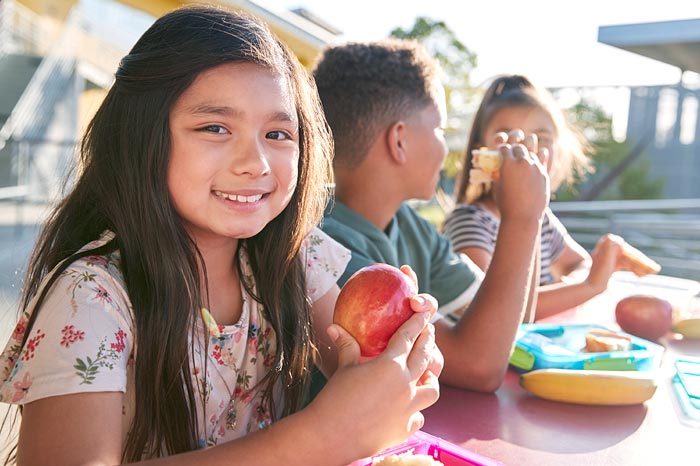 How Parents Should Bring Up the Subject of Weight
If you have concerns about your child's weight and relationship with food, take the initiative to begin the conversation. Make sure it is a two-way conversation and not just you talking at your child. Start by asking open-ended questions so your child can express their feelings. For example, talk about weight as a health indicator rather than a personality trait. Explain that you are concerned about the child's eating or exercise habits because their habits could lead to life-long health problems. Discuss the benefits of good health and offer to work together to develop a healthier lifestyle. This usually requires more than one conversation, but if you allow your child to speak openly, they will likely be willing to participate.
---
If your child or teen is unreceptive to discussing weight and you are concerned, let their pediatrician know.
---
What To Do When Your Child Brings Up the Topic of Weight
Your child may bring up the topic of their weight for different reasons. They might be getting teased or bullied at school, or they might feel left out because of how they look. Their weight can prevent them from participating in social activities or even have an impact on their mental health. Begin by learning from them what is causing them to feel this way about their weight.
The following steps can help guide a conversation about weight:
Respond with compassion. Acknowledge the situation and thank your child for sharing his or her feelings with you. Most importantly, tell your child you love them no matter what!From there, your response should depend on the child's age and maturity. Conversations with younger children should be gentle and targeted to their level of understanding. Conversations involving teenagers can be more straightforward and in-depth regarding weight and how it can impact their health. See the American Psychological Association Guide for examples.
Don't let your biases get in the way. When talking to your child, it's vital to keep your biases about weight out of the conversation. Otherwise, you may create negative outcomes by unintentionally communicating your biases to your child. Before starting the conversation, ask yourself: Do I judge people's personalities and abilities based on their weight? Do I believe that common stereotypes about people with a higher weight are true? Do I consciously or unconsciously apply those stereotypes to my children?It can be hard to let go of weight stigmas and biases you were taught from an early age. That's why it's so important to talk to your child in the right language. Don't let your biases prevent you from doing what's best for your child.
Talk openly with your child about weight. Encourage them to relate their thoughts and feelings about body image. Listen carefully and acknowledge their feelings as real and valid.
Use appropriate language. If you're having trouble getting your child to express their feelings about their weight, ask your child to identify the words that make them feel comfortable when discussing weight. Sometimes identifying some simple language can help spark a bigger discussion.
Avoid negative comments. Don't judge your body or your child's body in a derogatory way, as it can harm their body image and relationship with food.
Stay positive. Using shame, blame and anger to change your child's behavior will only set them up for failure.
Avoid mixed messages. Make sure both parents, grandparents and other relatives support your health goals. Mixed messages about weight can be confusing, especially to young children.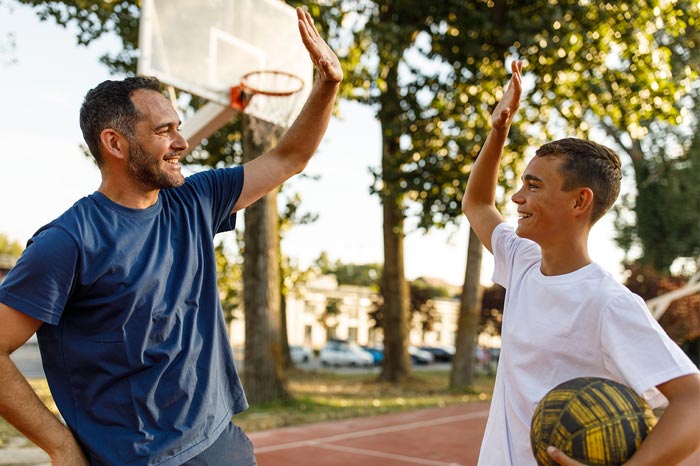 How to Help Your Child Get Healthy
A balanced diet and regular activity are essential for good health at any age. But changing habits doesn't happen overnight. Identify a few changes in the way your family eats and engages in activity, then set realistic goals. For example, take your child food shopping with you and show them how to select a variety of foods, including fruits and vegetables. Take young kids to the park or playground. Encourage teens to engage in organized activities.
---
---
Seek outside help when necessary. Ask your family care provider or child's pediatrician for ideas on improving family eating habits and activity levels. Look for local sports/activity programs your child will enjoy.
---
At TrueCare, we have Registered Dietitians for our pediatric patients and families in San Diego at our Oceanside and San Marcos locations. Ask your provider for a referral.
---
Also, lead by example. Teach your children habits that support good health for life by modeling healthy ways to eat and be active. Make it easy for your family to eat smart and move often. Serve balanced family meals and snacks. Limit your time watching television or surfing the web. Look for fun ways to spend active time with your children.
---
Need healthy snack ideas? Check out our food blog with healthy snack ideas here.
---
TrueCare Can Help
TrueCare's experienced Pediatric providers can help children understand the importance of weight to their lifetime of health. Call or text (760) 736-6767 today to schedule an appointment.
TrueCare's Pediatric department has Behavioral Health specialists who can help with any self-esteem or body image issues. Also, our Registered Dietitians can help you and your kids focus on prevention, counseling and building a healthy relationship with food. Talk to your pediatric provider for a referral to our comprehensive services at your next appointment.
Resources:
Healthful Eating Habits for Kids
Benefits of Pediatric Nutrition Services
Healthy Eating for Parents and Kids
Giving Children and Adolescents a Healthy Start Through Nutrition
How to Talk to Kids About Weight
A Guide for Talking to Your Children About Weight and Health
Childhood Obesity Data
Obesity and Hispanic Americans
DISCLAIMER: THIS WEBSITE DOES NOT PROVIDE MEDICAL ADVICE
The information, including but not limited to text, graphics, images, and other material contained on this website, are for informational purposes only. No material on this site is intended to be a substitute for professional medical advice, diagnosis, or treatment. Always seek the advice of your physician or other qualified healthcare provider with any questions you may have regarding a medical condition or treatment and before undertaking a new healthcare regimen. Never disregard professional medical advice or delay in seeking it because of something you read on this website.