The 5th annual Goat for Joe community golf event took place May 14th at Goat Hill Park Golf Course in Oceanside with over 130 golfers participating.
Oceanside, Calif., May 2022 – This year's event also included a few new activities, contributing to an all-day family friendly experience that brought special attention to mental health.
One of the newest components this year was the addition of a Mental Health Fair prior to the golf tournament. TrueCare providers and outreach representatives were on hand to offer educational information and answer questions. The Family Festivities included a petting zoo, jumpy house, and golf on a playground course.
In addition to the health fair, they served up delicious food! Lunch and dinner were available to attendees, with the post-golf entertainment from Blindfold Monks, a local Oceanside band.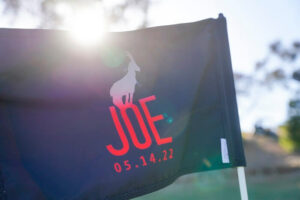 Proceeds raised by Goat for Joe benefit TrueCare's Behavioral Health Department. The fundraising event was founded by Dana and Andrea Albert in memory of Joseph "Joe" Aaron Nunez, Andrea's brother who passed away by suicide in March 2017.
Dana, a proud member of the TrueCare Philanthropy Committee, knows there are many families that may have or know a "Joe" in their lives who is struggling with mental illness such as suicidal behavior, anxiety, depression, schizophrenia, bipolar disorder, or any other debilitating mental disability. The need for help continues especially as the COVID-19 pandemic drags on and isolation and social anxieties persist as a result.
Dana explains, "While this event started off to just remember Joe, it quickly turned into something bigger." The Alberts organize Goat for Joe through the San Marcos Rotary Club Foundation.
---
The purpose of the event, according to Dana, is to ultimately eliminate the stigma of mental health and to encourage families to seek out resources that can help with suicide prevention and mental illness treatment.
---
"When I saw the participation level going up, I knew we had something bigger, and it gave us an opportunity to partner with organizations to bring greater awareness to mental health while providing a fun day for all who come. Plus, the money raised goes to an organization that can really make an impact," Dana adds.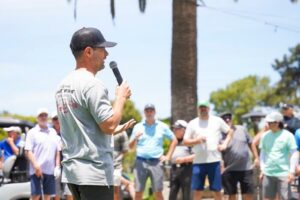 TrueCare's behavioral health clinics provide a welcoming place where people can feel safe, respected, and valued. Compassionate behavioral health specialists help people understand what's happening and offer coping and treatment options.
TrueCare's Behavioral Health department has seen a significant increase in patients needing services as a result of the pandemic, as well as global political and social climates. According to the Centers for Disease control and Prevention, 1 in 5 Americans will experience a mental health crisis in a given year.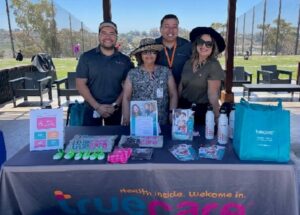 TrueCare's Dr. Leon Altamirano, who participated in the health fair and played in the golf tourney, notes, "The event was a huge success!"
TrueCare is grateful to the Alberts for their generosity and partnership in elevating this very important event and the mission it aims to serve.
About TrueCare
For over 50 years, TrueCare has not wavered in its commitment to patients, their families, and its communities. As a non-profit community health center, TrueCare is dedicated to delivering a superior and compassionate healthcare experience to nearly 60,000 patients every year, reducing barriers and increasing accessibility to quality care. TrueCare cares for the diverse communities of North San Diego and South Riverside Counties with services ranging from primary care, pediatrics, women's health, behavioral health, chiropractic and dentistry. In addition, TrueCare offers transportation services, community health outreach, insurance enrollment assistance, and case management programs.