Acupuncture Services: Your North County San Diego Resource
Acupuncture is a natural, effective treatment for pain relief from injury, inflammation, illness, or undiagnosed reasons. An ancient Eastern medicine practice for thousands of years, acupuncture is backed by extensive research and proven to release muscle tension. Acupuncture therapy involves the gentle application of ultra-thin, sterile needles at specific points on the body connected to the body's central nervous system.
By stimulating the body's natural ability to heal and increasing circulation, acupuncture services offer a safe option for chronic pain management without medication.
Your Primary Care provider is your best resource to learn more about the benefits of acupuncture and to see if a referral is right for you.
Let our team of licensed acupuncturists build a personalized acupuncture treatment plan for you!
Acupuncture Care for Pain Relief
TrueCare offers Acupuncture at their North County San Diego clinics for treatment of:
Muscle pain and tension
Neck pain
Lower back pain
Headaches (tension, migraine)
There are many distinctive styles and modalities for therapy. Our licensed acupuncturists will customize the treatment based on each individual.
Acupuncture is covered by most health insurance plans including Medi-Cal, specific Medicare supplemental plans, and select commercial insurance policies. A referral from your provider is required.
What is acupuncture?
Acupuncture is a medical treatment where our trained and licensed acupuncturists insert ultra-thin, sterile needles onto the skin at specific points in the body, called meridian points. This triggers a predictable effect and natural response from the body to release muscle pain and chemicals that help the body heal itself.
Does acupuncture hurt?
Acupuncture needles are extremely thin and flexible. You won't feel a sharp pinch. There may be a bit of an achy sensation followed by some tight muscle relief which is usually a good and natural sign that the needle is placed correctly.
Do acupuncture needles cause bruising?
Sometimes there can be slight bruising, especially for people who bruise easily, but there shouldn't be any pain.
How does acupuncture work?
The channels, or meridians, of your body are parallel to your central nervous system, lymphatic systems, and blood vessels. The needle triggers your body's natural reaction, resulting in a muscle response or endorphin (hormone) release.
How old do I have to be to get acupuncture?
At TrueCare, we provide acupuncture services to anyone with a referral from their provider who is 18 years or older.
Does my insurance cover acupuncture services?
Acupuncture is covered by most insurance plans including Medi-Cal. It also may be covered under some Medicare supplemental plans and commercial insurances. You will need a referral from your provider to see one of our licensed acupuncturists at TrueCare.
Find an Acupuncturist Near Me
Acupuncture services are available by referral at these TrueCare locations in North San Diego County:
Explore the benefits of acupuncture treatment.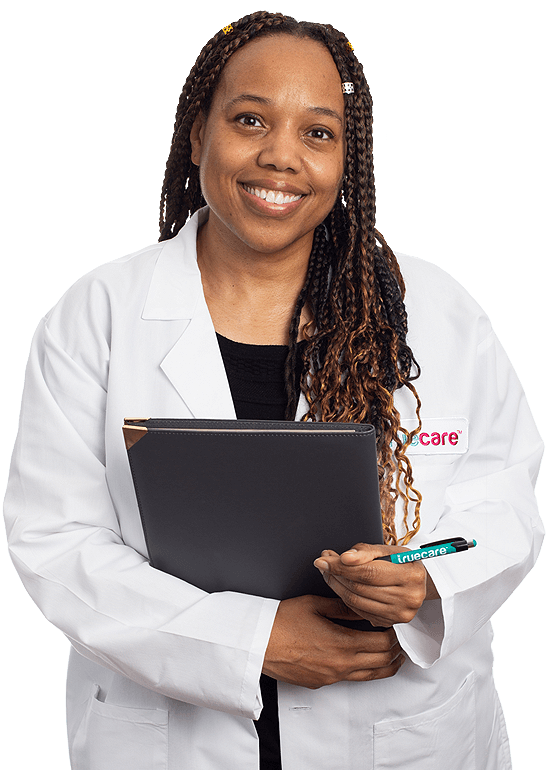 Extraordinary care with a heart.
Wanda Freeman, PMHNP/FNP-BC
Behavioral Health
"Most patients need understanding to make a change. If I can explain and educate well with my patients, they will feel more empowered to take charge of their health."